The Best Cooling Units for Custom Wine Cellars – Top Arizona Manufacturers
Custom Wine Cellars Phoenix has designed and built numerous storage facilities for residential and commercial purposes.
All the wine rooms that our wine cellar specialists construct are built to last and function efficiently. We make sure that the storage spaces we create are ideal for aging wines by installing dependable refrigeration systems manufactured by the most trusted HVAC companies.
Why Do You Need a Cooling Unit Specifically Designed for Wine Cellars?
Unlike other beverages, wine can easily lose its flavor and spoil if kept outside the ideal storage temperature and humidity levels.
If you store wine in an environment that is too hot, too cold, or worse, one that frequently fluctuates, you'll end up with a disappointingly vinegar-tasting wine. Wine cellars are climate-controlled storage systems that are built to keep wines safe from spoilage and allow them to age properly.
If you own one to two bottles, you probably won't need to have a wine cellar built. But, those who own large quantities of wines, or are in the wine selling industry, should have a custom wine cellar constructed.
All functional wine cellars must have a cooling system installed so that they can provide the standard storage temperature and humidity for wines.
Regular air conditioning units (HVAC) and refrigerators are not made for wine storage purposes. Cooling systems that are specially designed for wine cellars are built to meet the ideal storage requirements in a wine room.
Historically, people used to store wines in caves and underground spaces because these areas are adequately cold and moist, which are the characteristics of an ideal wine storage system.
In this modern age, builders create wine cellars to mimic or recreate the environment in those caves and underground spaces. Wine cellar cooling unit manufacturers design their products to effectively keep the climate inside wine rooms constantly cool at 50 to 55 degrees Fahrenheit and consistently humid at 50% to 60% Relative Humidity (RH).
Can You Install Any Kind of Cooling Unit in Your Wine Cellar?
No. Each storage facility is unique, which means that each wine cellar has different requirements.
The cooling unit you should install in your wine cellar should meet those requirements. To determine the most appropriate refrigeration system for your wine room, there are various factors to consider, such as the size of the structure, bottle capacity, location, and more.
To make sure that you pick the right HVAC unit for your wine cellar, you need to work with a cooling specialist in Arizona. A professional cooling technician will be able to assess the storage requirements thoroughly for your wine room so that the most appropriate refrigeration system can be installed.
Custom Wine Cellars Phoenix has worked with various HVAC technicians in Arizona on numerous projects. Contact our experts today, so that they can get you in touch with a wine cellar cooling specialist. Click here!
What are the Types of Wine Cellar Cooling Systems in Arizona?
There is an assortment of HVAC systems in Arizona that range from self-contained, through-the-wall units, to ductless split-type systems. The wine cellar cooling equipment you need also depends on factors, such as location, style, and size. Each type of refrigeration unit has its advantages and disadvantages.
Leading Brands of Wine Cellar Cooling Systems
There are many brands of wine cellar cooling units on the market, but we, at Custom Wine Cellars Phoenix, have selected three brands that we consider the best choices for residential installation in Phoenix.
The three top wine cellar refrigeration unit manufacturers that our experts recommend are:
1. CellarPro
CellarPro is one of the leading HVAC system manufacturers that offer a wide range of cooling equipment for both big and small storage facilities. They have refrigeration units that are designed for small spaces, like 200 cubic feet of custom wine cabinets. They also have cooling systems that are ideal for large storage systems, like grand wine cellars that measure up to 2,500 cubic feet.
Wine cellar builders often pick CellarPro cooling systems because they are among the quietest HVAC units in the industry. CellarPro offers various types of refrigeration units, including self-contained systems and split-type units. They also offer equipment that has built-in humidity control features.
2. WhisperKool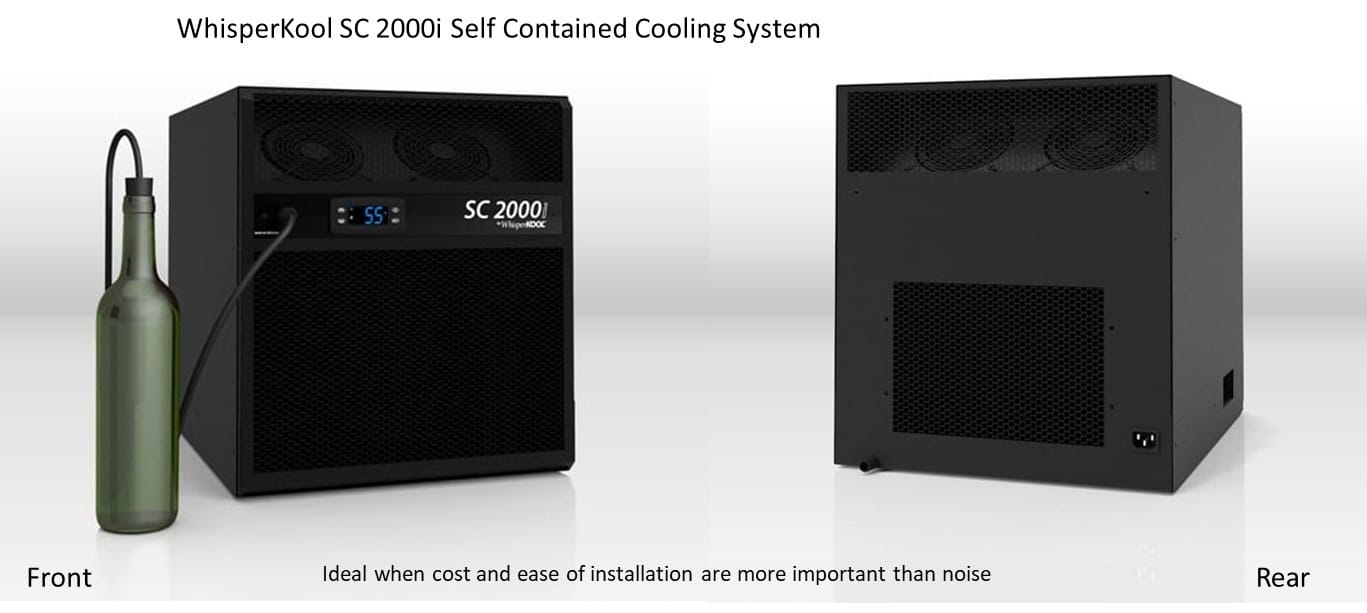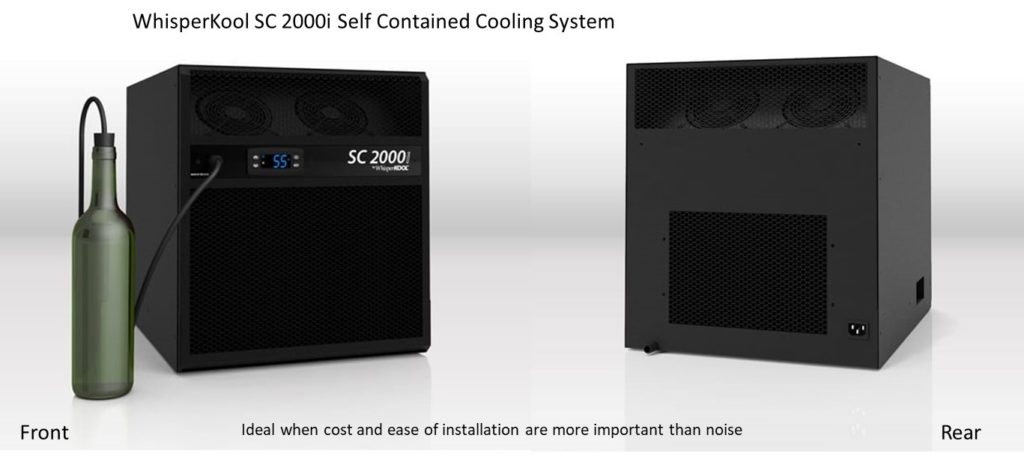 WhisperKOOL is a wine cellar cooling company that offers robust refrigeration systems known for their power and cooling rate. The HVAC products that they manufacture are ideal for wine cellars that are located in warmer regions.
Cooling systems built by WhisperKool are made with a humidity management system. This feature automatically adjusts the temperature inside a wine cellar according to the changes in the storage environment that the equipment detects.
3. US Cellar Systems

US Cellar Systems is known for its customizable wine cooling systems. The flexible characteristics of their HVAC units are ideal for storage facilities that have unusual dimensions. They have equipment that can fit difficult-to-reach areas. In many projects where we had to build wine cellars in irregularly-shaped spaces, we often chose to install cooling units from US Cellar.
Get Started with the Construction of Your Custom Wine Cellar!
Whether it is a residential or a commercial storage facility you need, we are ready to help you build your dream wine cellar in Arizona. Together with our construction partners, we can help you create a long-lasting, functional, and dependable wine cellar complete with a robust cooling system installed.
Our team of designers can offer you a FREE 3D drawing of your desired wine cellar today. Talk to our team today! Call us at +1(480) 409-1114.