What are the most suitable Wine Cellar Refrigeration Systems from WhisperKOOL for your Phoenix Wine Cellar?

This is not a complete list of every product that WhisperKOOL manufacture; rather it is a detailed description of the Wine Cellar Cooling Units and Systems from WhisperKOOL that we typically recommend for our Phoenix clients and make use of when installing a cooling system in residential or commercial custom wine cellars and or wine cabinets.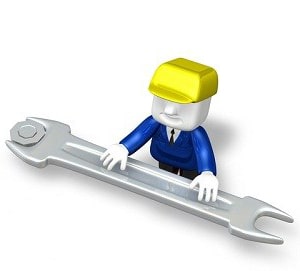 Our choices are based on long and practical experience in maintaining and designing these systems. In that sense, by reviewing the content on this page, you are gaining from our experience.
Our choices are based on what we consider the most suitable for different types of installations. Typically 'our choice' is a balance of factors such as aesthetics, noise, reliability, and cost-effective cooling units from this particular manufacturer.
Self-Contained Cooling Unit from WhisperKOOL – The SC (Self Contained) Systems
The SC Series is the latest Self Contained Wine Cellar Cooling Unit from WhisperKOOL. They replace the older XTL series and range from the 2000i though to the 8000i, the main difference between them being the size of the wine room they can refrigerate.
These units are one of the most economical solutions and are intended for simple through-the-wall installation. WhisperKOOL SC units fit between standard wall studs, and the rear flange eliminates the need for a support shelf.
The Slimline 2500 has a lower profile than the regular cooling units and is therefore ideal for installing above the wine cellar door in smaller wine cellars up to 350 cu, ft. such as closet conversions.
All SC models come with a standard Condensate Evaporator which dissipates excess moisture that collects during normal operation.
As with all WhisperKOOL wine cellar refrigeration systems, SC and the Slimline 2500 are equipped with a Liquid Measuring Thermostat to precisely preserve wine cellar temperature.
Both have a 30°F temperature differential. In order to keep your wine cellar temperature at 55°F, the area the unit is exhausting into should not exceed 85°F. This makes the SC Series and the Slimline 2500 ideal for interior installations.
The difference between WhisperKOOL systems and traditional air conditioning systems is the cooling rate and maintenance of humidity levels. Traditional systems cool the wine cellar too quickly and have difficulty reaching 57°F; this inadvertently removes humidity taking it below acceptable levels typically resulting in dried-out corks and oxidized wine.
WhisperKOOL systems measure the environment by sensing conditions by way of liquid temperature, thus cooling the air slowly to maintain 50% to 70% humidity in a properly prepared wine cellar.
WhisperKOOL SC also includes optional accessories. A Small Exhaust Duct Kit for 1600, 3000, and 4200 models is also available. This duct kit allows you to duct the warm exhaust air from your cooling system into another room in your Phoenix home or to the outdoors. Click here to view and download a WhisperKOOL Wine Cellar Cooling Ducting Kit Installation Guide if this option is ideal for your wine cellar cooling system.
With the SC series and the Slimline 2500, experience WhisperKOOL quality and performance at an affordable price.
SC stands for Self-Contained
Unlike split systems, the "Self-contained" system's two main components (the Evaporator and the Compressor) are grouped together within one housing. These units are the most economical and are much easier to install. They are designed to mount between the studs of an existing wall.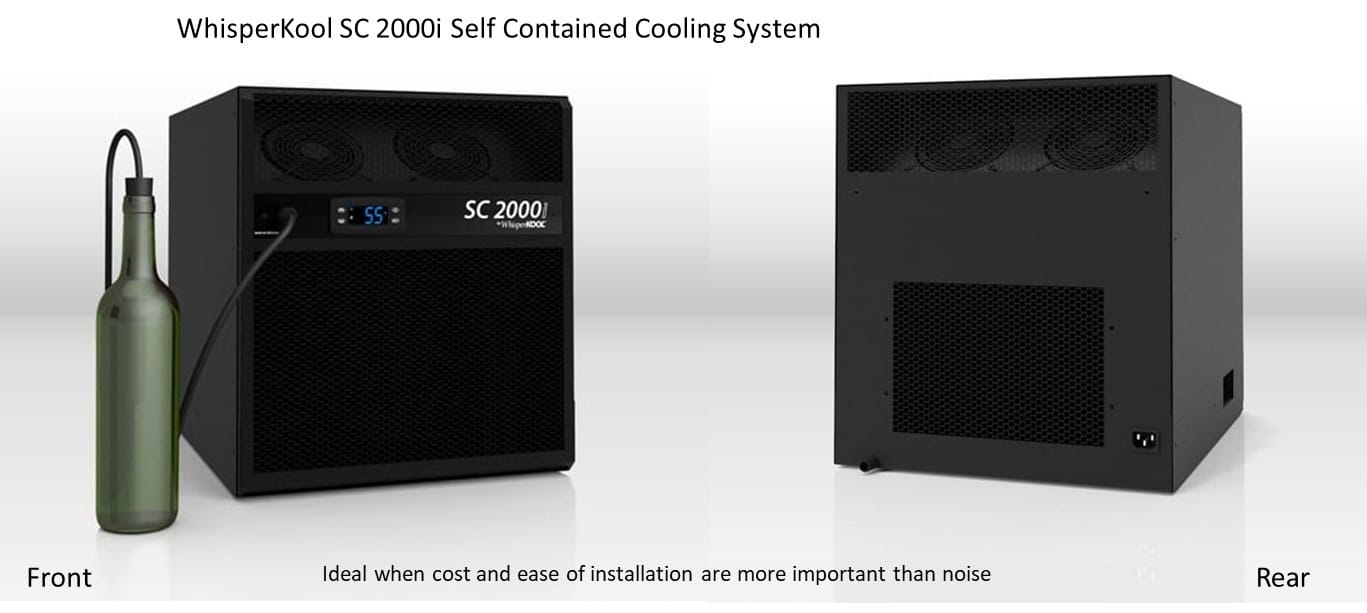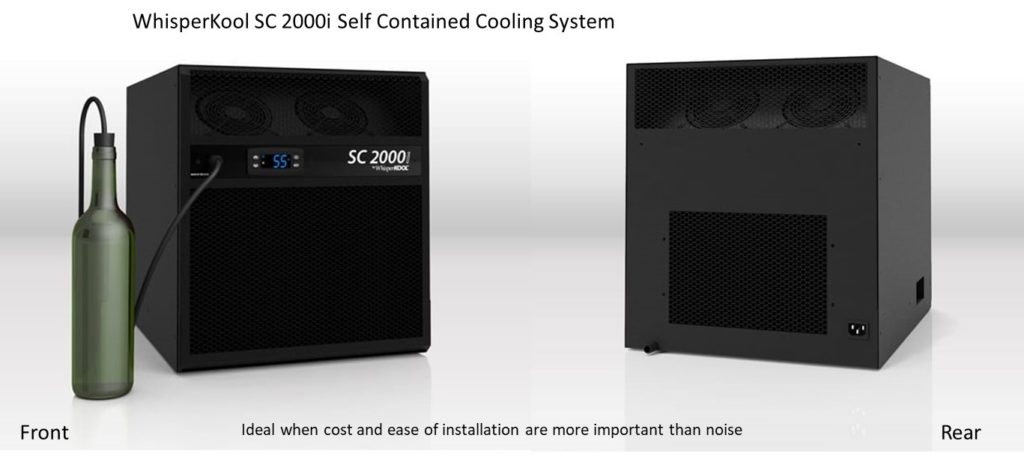 Self-contained systems and split systems with the evaporator mounted inside the wine cellar rely on mechanical equipment. As a result, they will make a noise in the cellar. Systems that are ducted, with the evaporator mounted away from the cellar, are generally significantly quieter. Fully ducted self-contained and split systems will usually be a better choice if your goal is to make your wine cellar environment as quiet as possible.
If you plan to use your wine cellar as a wine tasting and entertainment area, you will probably be better served by choosing a ducted split system. On the other hand, if your cellar is intended just to store your wine, you will save on time and cost by selecting a self-contained system.
WhisperKOOL Phoenix, Wine Cellar Cooling Units SC Series, Arizona
Cooling Unit Specifications – WhisperKOOL Phoenix
Cellar Size: 300 – 2000 cu. ft.
Installation: Through-the-Wall
Temp. Delta: 30°F temperature differential
Outside Venting: Not recommended unless the exhaust environment will not exceed 85°F
Ducting Options: Only the exhaust side can be ducted using the optional ducting kit
Warranty: 2-year parts and labor / 5-year compressor
Individual Dimensions & Capacities

Slimline

350 cu. ft – 22″W x 10.25″H x 19″D

SC Series

2000i – 300 cu. ft – 14.25″ W x 15.75″ H x 17.5″ D
3000i – 650 cu. ft – 14.25″ W x 15.75″ H x 17.5″ D
4000i – 1000 cu. ft – 14.25″ W x 15.75″ H x 17.5″ D
6000i – 1500 cu. ft – 14.25″ W x 22.5″ H x 21.64″ D
8000i – 2000 cu. ft – 14.25″ W x 22.5″ H x 21.64″ D
Homeowners in the Phoenix area experience a lot of natural environmental heat which should be managed very carefully.  Get help to make sure your wine cellar's cooling system is matched to your cellar's size, construction, and the local environment. Call us at Custom Wine Cellars Phoenix +1(480) 409-1114 and get expert help.