Customized Modern Wine Closets: A Renovation Project in Heritage Hills
Modern wine closets, no matter how big or small, should come with the right amount of insulation and the right kind of cooling system. One particular homeowner had his  modern wine closet rebuilt because of a critical problem — molds. The kitchen and dining area were two of the most frequented places inside his Heritage Hills house, and a moldy wine cellar was not the most pleasing sight, let alone safe for the health. So the client got in touch with Coastal Custom Wine Cellars to seek help on how to remedy the problem once and for all. 
Go through this article to find out the challenges  faced in building this modern wine closet and how the team addressed each one!
Renovating Modern Wine Closets: Identifying the Root Cause
When the Coastal Custom Wine Cellars team conducted their initial assessment, they were surprised to see what they were working on. It was one of the worst mold infestations they have come across and they have done a ton of wine cellar renovation projects before because of mold. The infestation was already quite severe that plenty of the bottles have turned green. Clearly, while the wine closet was cool, there were obviously plenty of air gaps that allowed moisture to seep in. As they were inspecting, they observed plenty of cracks throughout the cellar. 

How to Eliminate Molds in Modern Wine Closets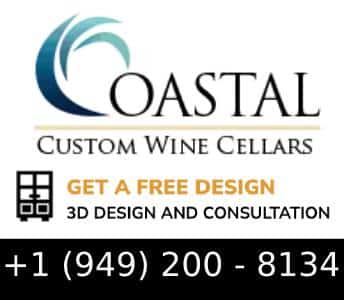 The problem here was, the client originally hired a Heritage Hills contractor who didn't know so much about wine cellars. They weren't able to address the issue of the hot wall and the lack of insulation. The wine cellar was directly in contact with an exterior wall that was exposed to the sun most of the day and that made it easier for air molecules to condense and seep into the cellar through the cracks.

So the team was working on two problems: how to reduce the impact of the hot wall and how to completely seal the air gaps.
Modern Wine Room Repair: Initial Steps
The initial steps the team took was to take everything out from the bottles, the racks, and down to the studs. They had to redo the studs, attach a new wine cooling system, and sprayed in some closed cell foam application to strengthen the insulation. Spray foam insulation can already act as a vapor barrier as well, so there wasn't any need to add a separate layer to hold the moisture off.  Once the foam had set, they installed the green board for the main wall. Green boards are known to be moisture resistant and are great for wine racks.
Refrigerating a Wine Cellar with Premium Glass Doors
To prevent moisture from forming inside, they sealed the entire wine closet — like what you see in refrigerators! They had three frameless glass doors custom made for this closet. All the three oversized glass doors were also weather-stripped and sealed around the edges, so the tiny spaces where air could possibly go through are completely sealed. 
The glass panels are held together on the corner by brushed black pivot hinges. This type of door hinge is ideal for wine cellars compared to the regular shower hinges because they don't have much air gaps in between.
It's A Commercial-Grade Wine Cooling System For This Small Modern Wine Closet
Now that the closet was guaranteed airtight, the next thing the team did was decide on the wine cellar cooling system. The old cooling system was from WhisperKOOL, but it was too big for the wine closet.
 So they brought in a commercial-grade wine cooling system from the Wine Cellar Designers Group. If you go through the pictures, you won't see the cooling system anywhere in the closet, and that's because they carefully hid all the coils and electrical parts.
Commercial air conditioning systems are not built to look appealing. Instead, they are built for prime functionality. So they needed to find a way to keep the AC from obstructing the design of this wine closet. As a solution, they went with a ductless split system cooling unit. 
They placed the condenser right outside the hot wall and ran the coils on the ceiling. So the register/air supply vent of this cellar was ceiling-mounted. The metal housings of wine cellar cooling systems can be opened quickly when it's time to inspect, clean, or repair the system like when there's a wine cooling system leak. If you're unfamiliar with maintaining commercial units, we recommend having them inspected and cleaned at least 1x a year. The air inlet and outlet inside our wine closet here are situated on the ceiling of the closet, hidden behind a wooden grill. 
Fully-Customized Metal Wine Racking and Wooden Shelves
Renovation works are usually common among outdated custom wine closets, wine displays that already developed molds, or wine displays with already dilapidated racking and walls. If your reason is the same with our featured wine closet here, you may want to take advantage of the time by going for a fresher style and newer functional innovations. An absolute makeover may seem a lot of work, but from our experience, all our clients end up being more satisfied with their renovated wine cellar! 
If your space is as compact as this contemporary wine closet and want to enhance the design, our team will work hard to ensure we capture the design you want for your new wine cellar. While we have plenty of modern design ideas, we are always excited to try out new ones and collaborate with our clients.
This wine closet repair project is an excellent example of a fully customized wine display. From the insulation to the doors, metal wine racking, wooden lattice X bins, multi-deep metal wine racking, and marble countertop, everything you see here was decided on to perfectly reflect what the client had envisioned.
Work With a Wine Cellar Builder Who Likes a Challenge — Custom Wine Cellars Phoenix
This project here involved plenty of collaboration with specialists. We had someone for the doors, the lights, the racking, and more. Every wine cellar is built differently and has varying requirements.  
If you're considering putting up a modern wine closet soon in your Heritage Hills home or Phoenix business, we at Custom Wine Cellars Phoenix would love to help you. We love a good challenge, and we ensure every wine cellar we build is unique to every owner and is efficient at preserving your wines even for the next 15, 20 years, or so.  
For all your modern wine closet needs, contact us at Custom Wine Cellars Phoenix!  
We are available at +1 (480) 409 – 1114.