Increase the Value of Your Wine Cellar Using Premier Flooring Materials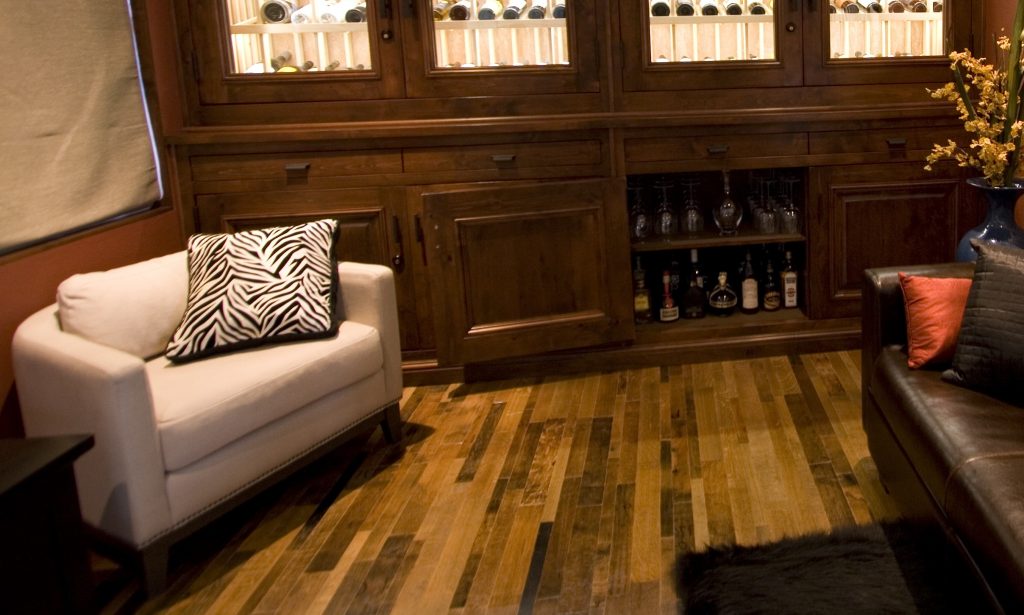 When conceptualizing the design of a custom wine cellar, one of the many things that must be considered is the flooring. The material used to build the wine cellar floor can help accentuate the overall design of the storage structure.
A beautiful floor can potentially increase the value of a wine room. It is imperative to consult a wine storage expert when deciding what product to use for the flooring.
Our design specialists here at Custom Wine Cellars Phoenix can help you choose the best flooring materials for your storage room. 
The Cellar Floor is an Essential Element in a Wine Room Design
Wine enthusiasts know that the storage spaces for their collections should be functional, dependable, and durable. But since the art of wine collecting usually involves flaunting your prized bottles to family and friends as well, most wine aficionados invest in making sure that their cellar is designed for such.
A prudent cellar owner will consult a specialist on how to make his or her wine storage structure more aesthetically appealing. There are many factors that contribute to the overall appearance of a wine room, and one of them is the material used for the flooring. To create a one-of-a-kind custom wine cellar, experts recommend choosing flooring materials carefully.
Build Unique Wine Cellars in Phoenix Using the Best Flooring Materials
There are various kinds of materials that are used in the manufacture of wine cellar flooring in Arizona.
The best types are reclaimed oak barrels, cork, and reused nautical timbers. The common denominator among these three options is that they all have environmentally-friendly qualities.
Regardless of the choice of flooring material, it is important to use a product that is highly durable against accidental wine spills and can adequately withstand the combined weight of all items inside the storage room, like the bottles, wine racking system, tasting tables, cabinetry, and other furniture.
The use of carpets as a floor covering is strongly discouraged because the climate-controlled conditions inside a wine cellar can cause mold formation in the carpet fibers.
Reclaimed Oak Barrel Wine Cellar Flooring
Many of the world's best wineries age their products in oak barrels. The use of these wooden containers is a century-old method of fermenting wine.
The wine is kept in the barrels anywhere from a few months to a number of years, depending on the winery. But what happens to these oak vessels once they're no longer good for winemaking?
Most winemakers do not discard oak barrels after they are done using them. These old wine containers can be used for other purposes, and one of the most common is for cellar flooring.
Professionals break the wooden containers apart and remove the metal hoops. They also separate the heads of the barrels and pull the staves apart. The wood is then engineered into flooring by taking a 1/8 inch veneer and installing the oak to Baltic Birch, which increases the oak's structural integrity. Recycling wine barrels is an eco-friendly process because all of the parts are utilized.
Stunning Close Up Of Re-claimed Wine Barrel Flooring
Reused wine barrel flooring adds character to any wine room in Phoenix, Arizona. No two barrels are the same, which means that when this material is used, the flooring created is always elegantly unique. There are three basic parts of a wine barrel: cooperage, stave, and infusion.
1. Cooperage
These are the top and bottom parts of the wine barrel. The cooperage features the stamps and markings made by the winery that manufactured the wines contained in the barrels.
2. Stave
This is the vertical wood on the sides of the oak barrel. The stave is a great choice for floors. It will create an eccentric design for the cellar because of the distinct markings and indentations on the wood caused by the metal rings that used to be attached to them.
3. Infusion
The infusion is the plank that comes from the inside of barrels. This part has vibrant shades of red that are a result of the natural wood staining by the wines that used to be stored in them.
Wine Cellar Cork Flooring
Cork is a natural product from the bark of the cork oak tree. The process of harvesting the material is environmentally friendly because no trees are cut down. The bark is peeled off without destroying the tree, and it regrows in about nine years or less. By then, it is ready to be harvested again. Cork, being a renewable resource, is one of the top materials used for flooring.
The structure of the cork can be likened to a honeycomb. It contains 90% air, and its structure provides cushion and insulation. Cork also contains a compound called, "suberin," which gives the material insect repellent properties and makes it highly resistant to mold formation. These characteristics make cork an ideal product for wine cellar floors.
Shade Variations of Cork Flooring
Like all-natural products, it is inherent for the cork to have shade variations. This characteristic is an advantage because the color variances from one cork tile to another can create a unique design for your Phoenix wine cellar. Since no two cork floors are the same, you can be assured that your wine room is one-of-a-kind.
Color Changes of Cork Tiles Over Time
Cork, as a natural product, has the potential to change its color over time, especially when exposed to ultraviolet light. As a wine cellar owner, it is imperative that you have your storage room built away from exposure to sunlight. Keeping your cellar away from UV light will not only protect your cork floors from fading quickly, but it will also prevent the constant fluctuation of temperature in the room and guard your wines against spoiling.
Application of Custom Stains on Cork Floors
Wine cellar owners can opt to have their cork floors applied with a custom stain of any shade. However, it is highly unlikely to achieve a precise color match from tile to tile. This is because of the natural color variations of the material. But, these variances are commonly accepted as an advantage. The differences in color tones from tile to tile make wine room cork floors distinctly attractive.
Installation of Water-Based Polyurethane
The application of polyurethane to unfinished cork flooring is performed to help protect the floor from normal wear and tear. Many wine storage designers apply polyurethane also because the product strikingly enhances the natural grains and patterns of cork. Water-based polyurethane can beautifully darken the color of each cork tile.
Inspection of Cork Tiles Prior to Installation
It is important to check the appearance of your cork tiles before they are installed in your wine cellar. It will cost you more to have your flooring removed and reinstalled. To make sure that the cork tiles are your preferred style, size, color, and pattern, you need to inspect the materials prior to their installation.
Simply have the cork tiles laid out loosely on the wine cellar floor. Step back and view the flooring. Adjust according to your satisfaction, and when you are happy with the layout, you can have them installed.
Proper Maintenance of Wine Cellar Cork Floors
To prolong the longevity of your cork flooring, it is imperative that you know how to properly maintain it. Simply sweep or vacuum the floor regularly, so that you can avoid the accumulation of abrasive particles. In cases of accidental spills on the floor, wipe the mess immediately. A wine cellar cork floor can last up to thirty years if correctly installed and maintained.
Wine Cellar Floor Using Nautical Timbers 
The third most environmentally friendly material used for wine cellar flooring is reclaimed nautical timber. This product is made from the ballast and cribbage of old ships and boats.
Nautical timbers come from over seventy different kinds of wood species that originated from various places, like Africa, South America, and Asia. These rustic timbers have been exposed to natural elements which have resulted in marks and dents on the wood. These distinct aberrations give the material a classic charm and timeless elegance.
The process of turning reclaimed natural hardwood into wine cellar flooring is quite meticulous. The timbers are carefully re-sawn so that their natural characteristics and patina are maintained. Baltic Birch plywood is also installed as support so that the wood can have increased structural integrity. Recycled nautical timbers are a beautiful material for wine cellar flooring that can enhance the overall style of the storage room.
Nautical timbers are a limited resource, which makes the product more valuable. Each wood timber has a different design, and this ensures that your wine cellar flooring will have a unique style. Having old nautical lumber for your cellar floor will definitely increase the value of your Phoenix wine room.
Other Types of Wine Cellar Flooring Materials
Besides reclaimed oak barrels, cork, and old nautical timber, wine cellar owners can also opt to use other types of flooring materials available in Phoenix, such as wood, mosaic, stone, and vinyl.
1. Wood
This is an affordable material used for wine room flooring. It is a common choice because it can easily be matched with the wood used for the racks and shelves. There are also various stains and finishes that can be used to enhance the aesthetics of the product. The most durable wood species are Redwood, Mahogany, and Pine.
2. Mosaic
If you want to be more creative with your wine cellar flooring design, mosaics are a brilliant option for you. This type of floor adds an artistic flair to your wine room. Mosaics are a decorative kind of flooring that incorporates various materials, such as stained glass, fine china, and porcelain tiles. These materials are arranged to create an image or pattern of your preference.
3. Stone
Stone is a good choice for those who want to include a tasting area inside their cellar. This material does not easily stain, and thus is resistant to damage from frequent spills. The most common stones used for wine rooms are marble, slate, and granite.
4. Vinyl
Laminate or vinyl floors are a cost-effective alternative to wooden floors. A lot of the products sold on the market are made to look like real wood because of their patterns and designs.
If you want to achieve the ambiance of a wooden floor at a more affordable price, you can use vinyl. This material is also easy to maintain.
Trusted Wine Storage Specialist in Phoenix, Arizona
The material that you use for your wine cellar flooring should be thought through carefully. The beauty of your cellar floor will not only enhance the style of your wine room but also increase its value.
Whether you choose old wine barrels, cork, reused nautical timbers, or other products, you need to make sure that the material you select is installed correctly. Consult a wine storage expert in Phoenix regarding the best type of material for your cellar floor. Moreover, you need to hire a professional to properly install the product that you choose.
Custom Wine Cellars Phoenix has over a decade of experience in building effective and efficient storage structures in Arizona. All of the wine room specialists have been trained in the correct installation of all kinds of wine cellar flooring materials. For more information about the products and services that they offer, contact them today at +1(480) 409-1114!