Installation of an Efficient Custom Wine Cabinet Refrigeration System by Arctic Metalworks Inc.
Wines need to be stored in ideal climate-controlled conditions, in order to be protected from spoilage. This is why all wine storage structures must be installed with a dependable cooling system. The custom wine cabinets in Phoenix, Arizona, for example, were installed with a robust HVAC unit by Arctic Metalworks Inc. The cabinets had limited space to vent air in and out. The team of refrigeration experts had to choose a piece of equipment that would allow them to use extra thin ducting.
Cooling system Installed in Residential Wine Cabinets in Phoenix, Arizona
David Gype, the owner of Arctic Metalworks Inc., together with his team of professional HVAC technicians, recently had the opportunity to work on a challenging project in Phoenix, Arizona. The client had four beautiful custom wine cabinets in his luxury home. He needed to have a dependable refrigeration system installed for his storage structure.
High-Quality HVAC Equipment is Indispensable in an Ideal Wine Storage System
Without a cooling system installed, no structure can provide the required temperature and humidity that wines need for aging. Prudent cellar owners invest in the installation of a high-grade refrigeration unit so that they can make sure their wine collection is kept safe from damage. Whether you own a residential or commercial wine storage structure, it is imperative that you hire an HVAC expert to determine the most appropriate cooling equipment for your wine room. It was wise for the Phoenix client to have approached Arctic Metalworks Inc. because David and his team are trusted experts in the wine cellar cooling industry.
Want to consult a professional HVAC technician? Contact David Gype today! Click here!
Determining the Appropriate Cooling System for the Custom Wine Cabinets in Phoenix
The client had a total of four custom cabinets that extended from the ceiling of his house to the floor. The residential wine storage structure was elegantly designed. They were reach-in types of cabinets and were tightly sealed by a glass door.  Since his cabinets had very limited space inside and there was not much room to vent air in and out, it was a challenge for David and his team to find cooling equipment that would allow them to use extra thin ducts.
Consult an HVAC Expert on the Most Appropriate Cooling Unit for any Wine Storage Structure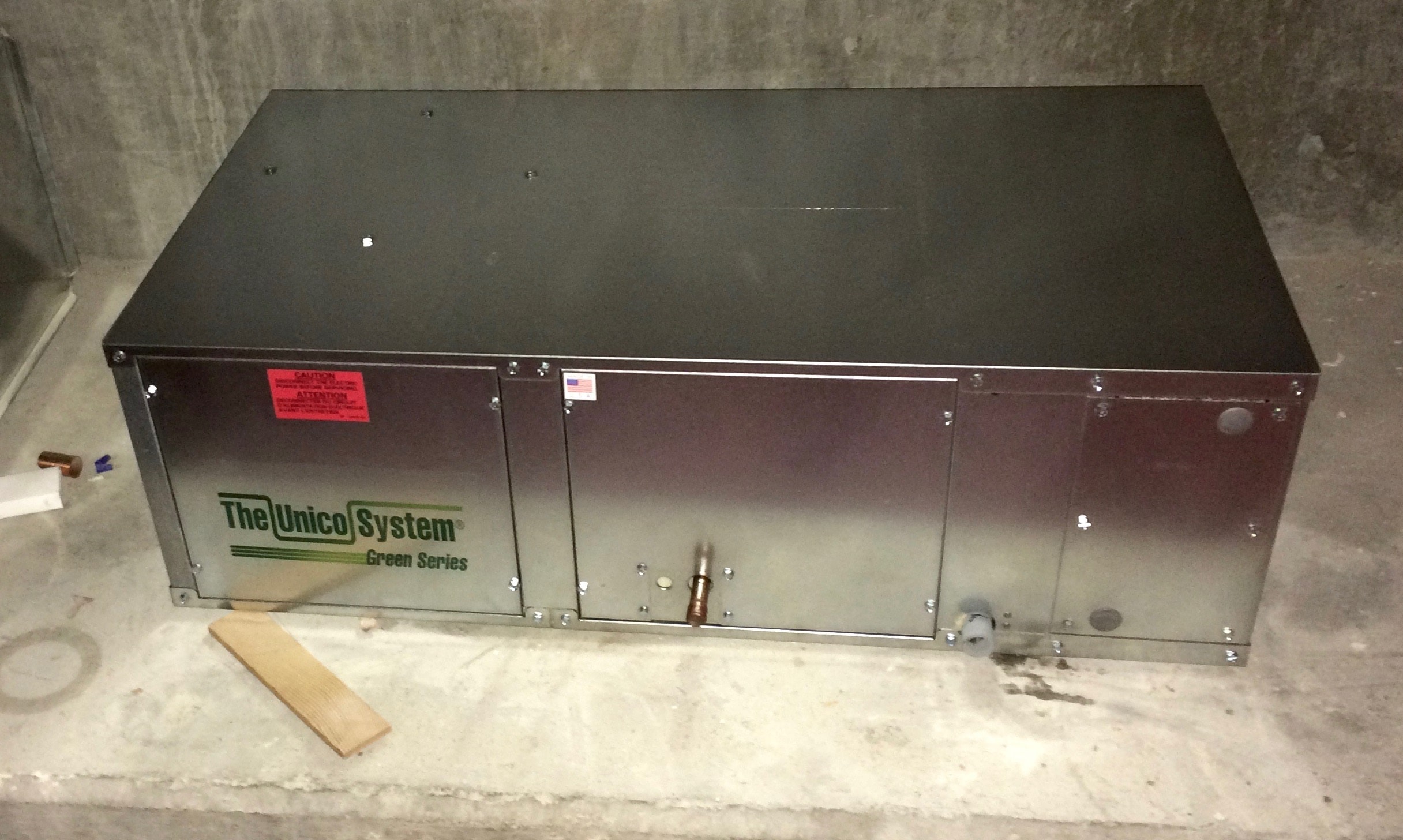 Wine storage structures vary in requirements, and thus each one needs a different type of cooling system. A few of the factors that help determine the appropriate refrigeration unit for a wine cellar or cabinet are the size of the structure, the number of bottles stored, and the climate of the region. To find out the best HVAC equipment for any wine room, a professional cooling specialist must be consulted. This is why the client in the Phoenix installation project contacted David and his team from Arctic Metalworks Inc.
What are the various kinds of wine refrigeration systems? Find out by clicking here!
Refrigeration System for the Phoenix Custom Wine Cabinets: Unico High Static Pressure Forced Air Unit
The team of cooling experts recommended that the most suitable HVAC equipment for this project was a ducted split-type system. Split-type refrigeration units are ideal for wine storage structures with limited spaces. In this kind of setup, the unit is placed in a separate location and cool air is ducted into the cabinets.
David and his team of technicians installed a Unico High Static Pressure Forced Air Unit (FAU). This is a type of cooling equipment that uses high static pressure, which is a feature that allows cooling specialists to utilize smaller types of conduits. Typically, with FAUs, HVAC professionals can use lines that are at least 6 inches in duct size. Standard FAUs do not have conduits that are smaller than this measurement. But, with the specific kind of Unico cooling system that David and his team mounted, two-inch ducting can be used. This is because this particular refrigeration unit has a built-in high static fan that can increase the supply of pressure.
The team from Arctic Metalworks Inc. utilized a total of eight pieces of two-inch conduits. There were four cabinets, and so two ducts were allotted per cabinet. The small ducting installed by the technicians exchanged warm and cool air to and from the storage structure. The lines were adequately small to reach the cabinet's very tight spaces.
The ducts used in this project were made of aluminum flex, instead of a polystyrene type of barrier. Aluminum flex is a material known for its durability. It does not easily tear or leak. The client was very happy with the outcome of the project because all of his four custom wine cabinets are being cooled efficiently, effectively, and quietly.

Premier Wine Refrigeration Specialist in Arizona – Arctic Metalworks Inc. 
Arctic Metalworks Inc. has more than 20 years of experience in providing expert HVAC services, such as manufacturing, installing, and maintaining all kinds of wine refrigeration systems in Arizona. David Gype, the owner of the company, has a thorough knowledge and understanding of the special storage needs of wine. He makes sure that he and his team of cooling technicians always provide storage structures with the most efficient and effective refrigeration equipment, which is why Custom Wine Cellars Phoenix loves to work with them. Customers are always satisfied with the services that David and his team provide.
Get more information about Arctic Metalworks Inc., and learn about their products and services! Call David Gype today at +1 (714) 251-6875!