Phoenix, AZ, Modern-Chic Wine Cellar: A Fusion of Traditional Design and Contemporary Styles
A wine cellar is not just a storage facility, but also an accent to a home. The aesthetic value of your home can drastically increase if you have a beautifully designed wine cellar built. Guests would wow at your wine room and be in awe of your most precious bottles. Get inspiration from some of the most current cellar-style ideas, so that you can conceptualize your own brilliant design! A recent project, for example, that we completed in Phoenix, AZ, is the product of combining design concepts from various wine cellars in Phoenix.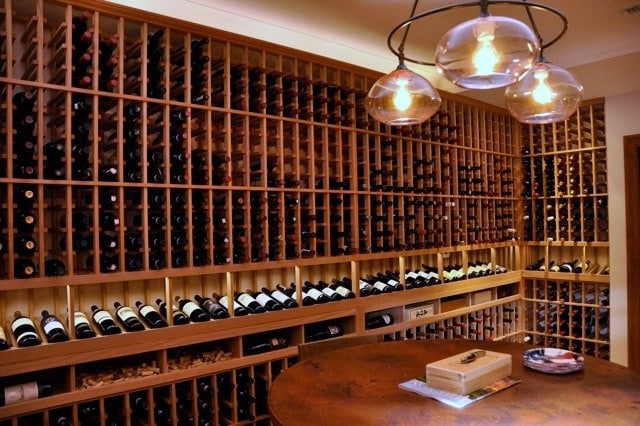 Customized Wine Cellar Design: How We Came Up with a Unique Style for this Project in Phoenix, AZ
Coming up with a design for your residential wine cellar can be a tedious task. Should you go traditional and install wooden fixtures only? Or should you go modern and invest in metallic or glass installations? But, these two styles sound so nice, why do you have to choose between them? Go for a fusion between the two!
In Phoenix, a city on the west side of Arizona, we had a chance to work with and for a client who wanted us to build a unique wine cellar. Just like all our clients, we provided the client in this project with a consultation that was free of charge. We discussed with him his storage needs and aesthetic requirements. Through the discussion, we had an exciting exchange of ideas and decided that we were going to construct a wine room that had a traditional design with a modern twist.
To provide the client with better visualization of the planned construction, we created 3-dimensional sketches of the wine cellar. Once he approved the proposed design, we started building the wine room.
An Assortment of Wine Racking Styles
We, together with the client, decided to use unfinished All Heart Redwood for the wine racks. This type of wood species is one of the most in-demand products used in the construction of wine cellars. It is a dependable material because it is highly resistant to mold and mildew, which makes it ideal for climate-controlled structures. We installed wine racks of various styles to maximize the space. This wine cellar in Phoenix, AZ could accommodate up to 2,501 bottles.
Focal Point: A Stellar Arch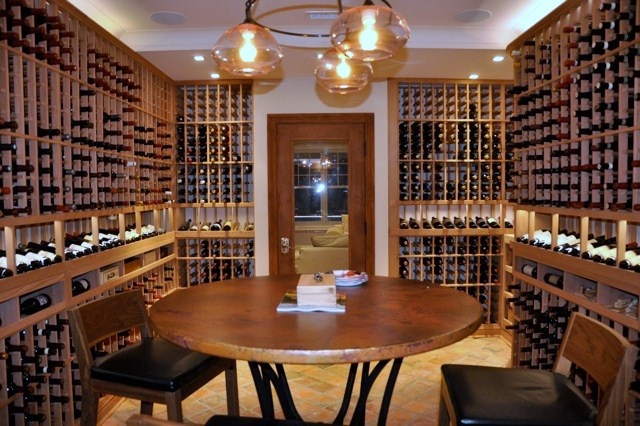 Right across from the entryway, feast your eyes on a dazzling arched tabletop with concealed lighting. This installation features stemware racking where the client hangs his crystal wine glasses. Beneath the tabletop is 3 ¾" slots for standard-sized bottles. On the left and right of these individual storage slots were diamond bins, which were meant for large-format bottles and bulk storage. More of the single storage racks were installed on both sides of the arch.
A display row was included on the wine racking systems on the left and right sides of the arch. Lighting valances were set up, so that concealed LED wine cellar lighting fixtures could gorgeously illuminate the bottles on the display row.
Wine Racking Systems on the Left and Right Walls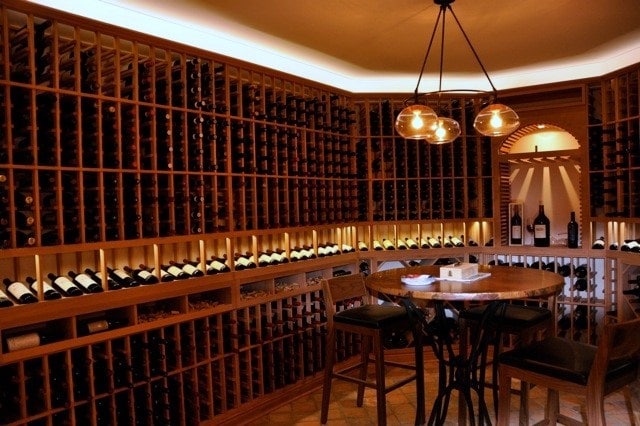 The left and right walls of this custom-designed wine room were installed with single bottle slots that could accommodate almost any 750ml wine on the market. A beautiful, high-reveal display row extended throughout the middle of both the left and right wall racking. Beneath the display rows, our team included horizontal displays. At the end of the left and right wall racks, we mounted quarter round display columns, so that there could be a nice transition between the walls.
In an alcove, our team of builders built a tabletop for serving and presenting wine. Under this tabletop, we added a set of wooden case storage shelves that were laid on top of commercial rollers.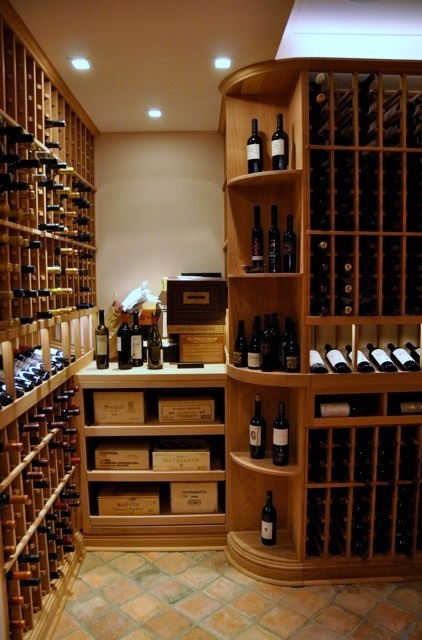 A Modish Tasting Area
The client wanted his residential wine cellar to be more than just a storage room. He wanted it to be an entertainment and wine tasting room as well. This is why we added a wine tasting table with chairs inside the wine room. A stylish chandelier was installed on the ceiling to complete the posh look of the tasting area.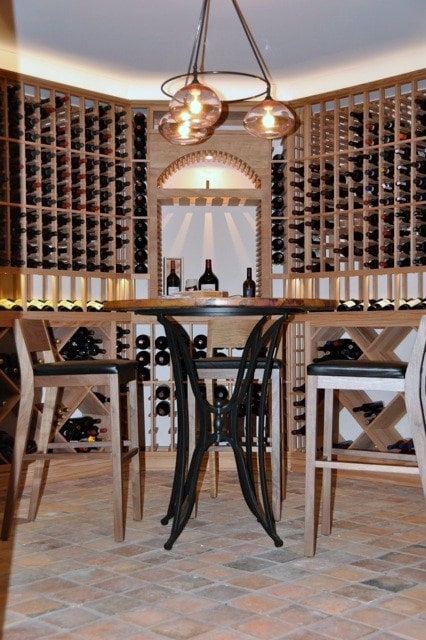 Custom-Designed Wine Cellar Door
A wine cellar door is an essential part of any refrigerated storage structure. A dependable door is one that can help keep the climate inside the room stable. Besides functionality, an ideal door should be aesthetically superior. Our team of builders installed a unique entryway for this Phoenix wine room. The door was a double, Barolo-style cellar door with dual-pane glass, which helps keep the integrity of the climate-controlled environment.
Dependable Wine Cellar Cooling Equipment
A wine cellar needs more than an average piece of air conditioning equipment. Since a wine needs to be stored at an ideal temperature and humidity range, cellars should be installed with refrigeration specifically built for wine storage structures. For this residential wine room in Phoenix, AZ, we installed a ducted split type of cooling system from CellarMate, which is one of the most trusted HVAC unit manufacturers in the country.
Master Storage Room Builders for Phoenix, AZ: Custom Wine Cellars Phoenix
If you want to make sure that the wine cellar you want to be built will be dependable and functional, it is imperative that you work with a master builder. Custom Wine Cellars Phoenix has an outstanding reputation in building effective and efficient wine storage facilities in Arizona, Arizona, and throughout the USA. Call us today, and we will give you free 3D drawings of your dream residential custom wine cellar. Contact us at +1(480) 409-1114!