Metal Wine Racking Systems from VintageView Wine Storage Solutions
Wine storage structures in Phoenix come in various designs. Modern-style cellars are the most popular these days. To create a contemporary wine room, the materials used for its construction should be carefully considered. The racking systems, for example, should be made of metal to achieve an innovative look. We, at Custom Wine Cellars Phoenix, highly recommend using metal wine racks from VintageView.
Contemporary Wine Room Installation: Label-Forward Metal Racks
When conceptualizing the design of a custom wine cellar, it is important to plan what materials to use for its construction. The materials used in building a wine room will contribute to the overall aesthetics of the structure. Wooden products, for example, will create a traditional feel for the cellar. Steel, on the other hand, will help make the room look more contemporary. Modern wine cellars usually have metal wine racks installed.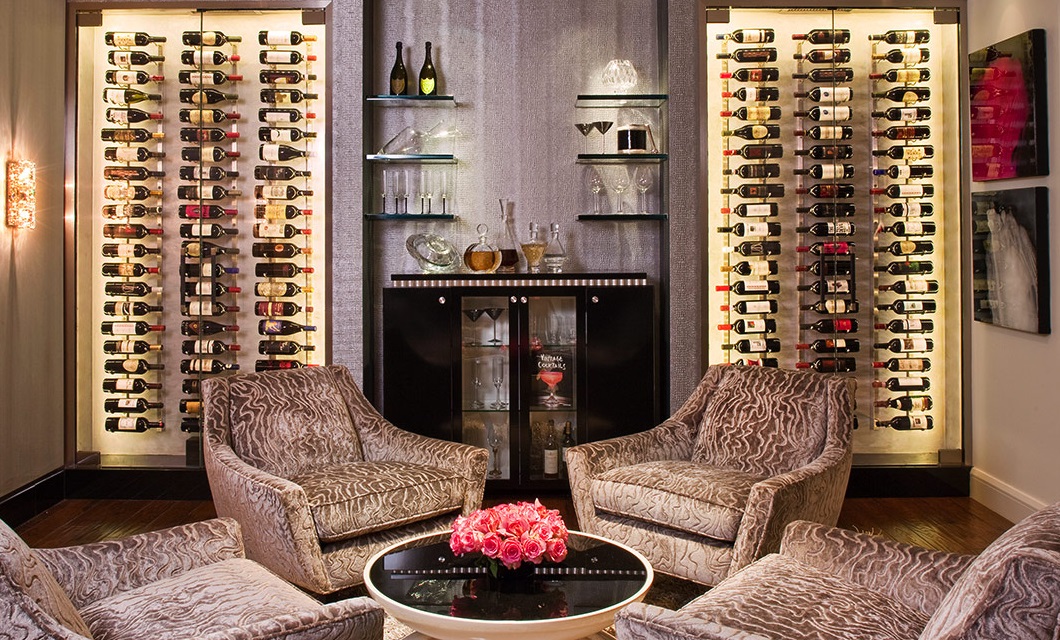 Vintage View Metal Wine Rack Collection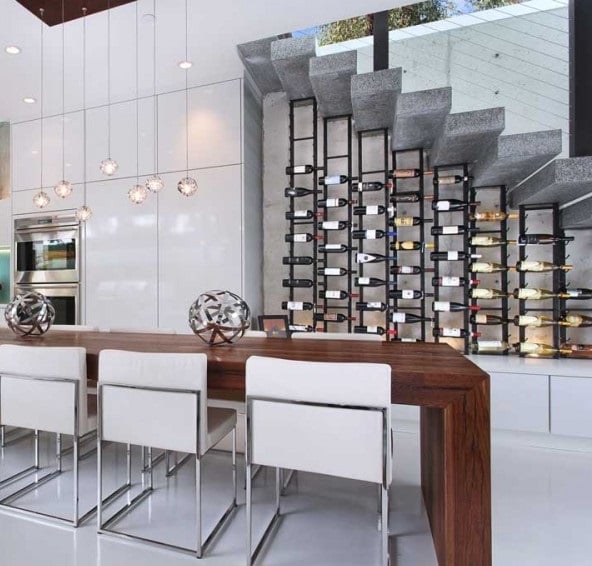 We, at Custom Wine Cellars Phoenix, offer all types of racking systems – metal, wooden, and acrylic – for both residential and commercial structures. The metal wine racks that we have are part of the collection from VintageView Wine Racking Systems. These are robust steel installations that are available in various finish options.
How many minutes does it take for you to find a certain bottle in your wine cellar? Sometimes – depending on the size of your storage room – you'll find yourself sweating while you're searching for your favorite wine. The heat that your body releases during this time can have a negative effect on the temperature and humidity balance in the wine room. If you do this often, the constant opening of your cellar door can also cause the climate conditions inside to fluctuate, which can ultimately damage your wines.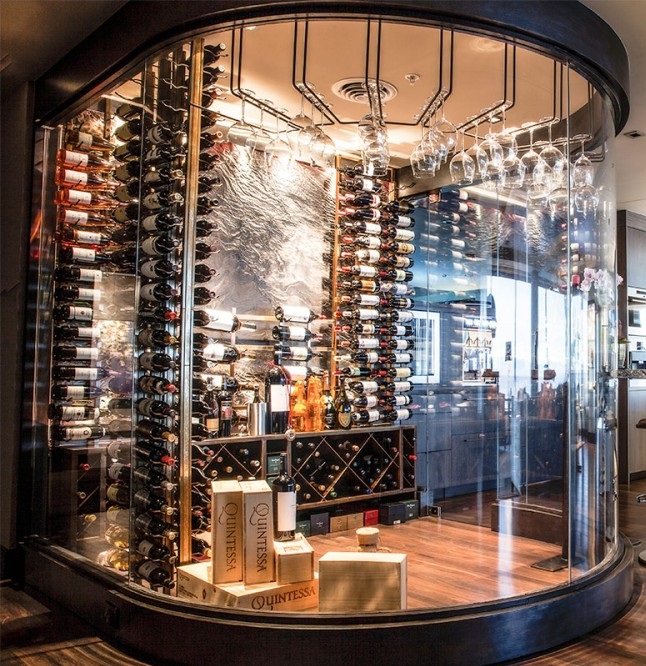 Wine racks from the VintageView series all have a label-forward design, which means that you can display bottles on them with the labels facing you. It's easier to find wines with this kind of racking style. Moreover, the racks in the collection have an open airflow design, which means that cool air is evenly distributed around all the bottles. This ensures that all wines are cooled to the ideal temperature for aging.
1. Wall Series Metal Wine Racks
This patented collection of racks is ideal for small wine cellars. The modular nature of this series makes them flexible in limited spaces. You can stack one module on top of another, and you can customize their configuration, in order to meet your storage needs.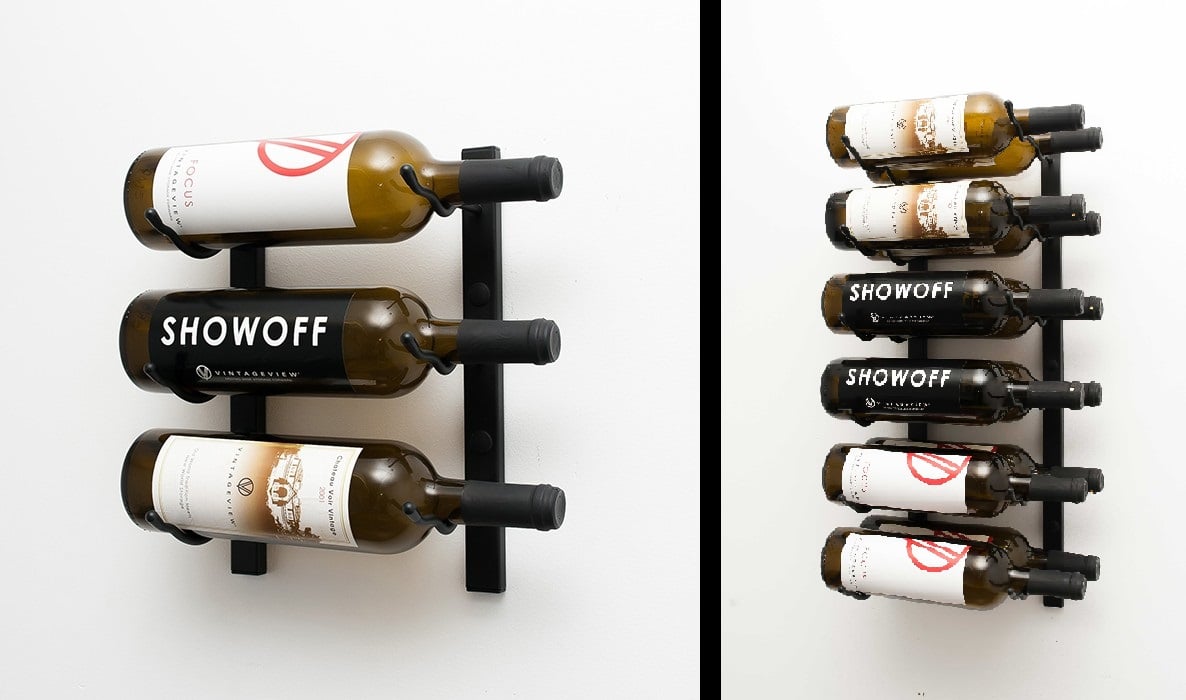 The VintageView Wall Series is made from robust steel. These wine racks are offered in four standard heights and three bottle depths. There are also options for magnum-sized and large-format bottles. This collection is available in the following finish options: satin black, chrome, black chrome, and brushed nickel finish.
2. Vino Series Metal Racking System
Unleash your creative side with this collection! The Pins, Rails, and Styx are single-bottle racks with a minimalist design. Instead of a linear racking system, you can explore your artistic side by starting with one rack and building on it to create your own masterpiece. Your display can accommodate as many bottles as you want, depending on your storage requirements.
The Vino Series wine racks are available in various finish options, including milled aluminum, anodized black, satin black, and brushed nickel.
3. Evolution Series Contemporary Wine Racks
The Evolution Series racks are the modern version of a freestanding racking system. This storage display is made from steel rods joined by acrylic support materials. The combination of these two materials makes the racking look more contemporary. Because of the use of steel and acrylic, the racks are light to carry and easy to assemble.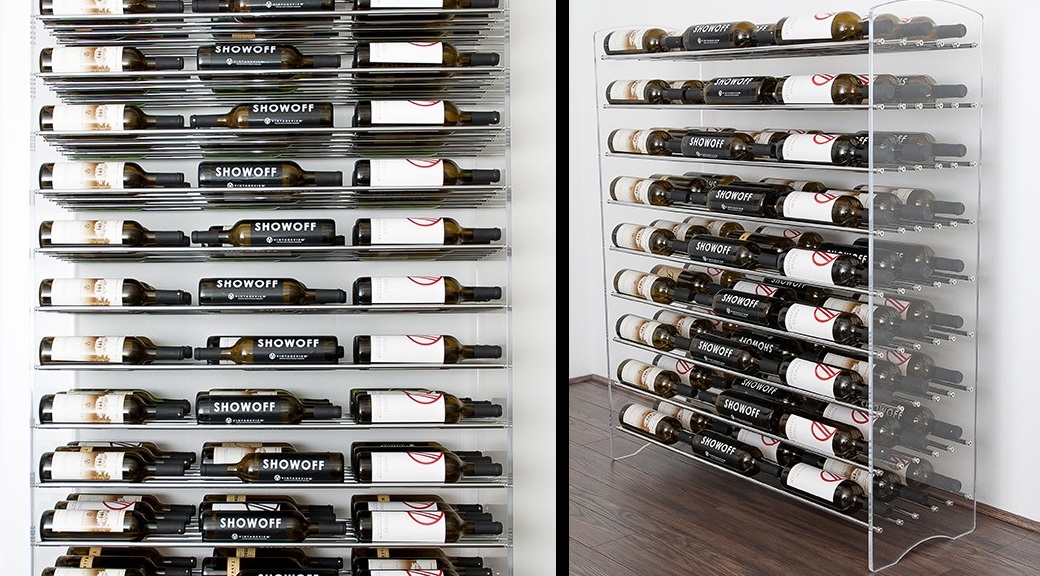 This unique collection is available in standard 4, 6, and 8-foot heights. Extension kits are also offered, in case you need to add more modules to suit your storage requirements.
4. Innovative Floor to Ceiling Racking Frames
These steel frames break the boundaries that once put limits on how you can display your wines. Using the Floor to Ceiling Frames, you can install the Wall Series racking system in whatever way you want. You can mount the racks on hard-to-reach heights, on difficult angles, and around windows.
Furthermore, these metal frames can be used to create a wall of wine bottles, which can be used as a divider in your cellar. The walls that can be built using these frames can be as tall as any ceiling height. The Floor to Ceiling Frames are available in the following finish choices: chrome, satin black, black chrome, and brushed nickel.
Installation Guide Video of the Floor to Ceiling Frames
Prepare the following items:
• FCF Sections
• Base Plates
• Plastic couplers
• Self-drilling screws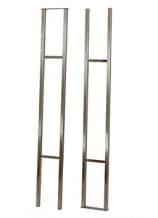 • Metal racks from Vintage View's Wall Series
• Phillips head screwdriver
• Tape Measure
• Metal file
• Pencil
• Level
• Drill
Step by Step Instructions:
1. Measure the height of your ceiling. Mark the Floor to Ceiling Frames accordingly.
2. Prepare the plastic couplers and insert them into the open ends of one frame.
3. Lay the Floor to Ceiling Frames next to each other, interlaced.
4. The combination of the frames should have a length that is equal to your cellar ceiling height.
5. Mark both legs of the second frame section.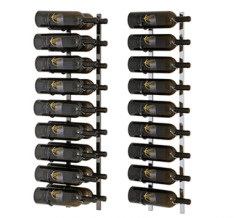 6. Get a non-abrasive saw. Using either a reciprocating saw, a band saw, or a hacksaw, squarely cut both legs of the frame at the cut mark.
7. Use the metal file to smooth the cut ends.
8. Slide the frame together using the couplers.
9. Secure the Vintage View Wall Series metal racks to the front and back of the frame using the self-drilling screws.
10. Make sure that the joint is supported fully on both sides.
11. If it is a one-sided display that you are building, you need an FCF-Back for support.
12. Stand the wine rack and the frames in the spot where you want it installed.
13. Attach the base plate to the ceiling using fasteners.
14. Then, attach the base plate to the floor
Modern Wine Cellar Design: Consult an Expert in Phoenix
Dreaming of your own space to store your vintages? Our experts here at Custom Wine Cellars Phoenix are well-experienced in designing and building dependable storage rooms. Let us know how you want to store your bottles, and we can provide you with a personal design of your one-of-a-kind wine cellar. Call us today at +1(480) 409-1114!