Expert Builders Convert a Garage in Arizona into a First Class Custom Wine Cellar
If you only have a few bottles of wine in your home, you probably have a wine cabinet or a wine refrigerator in which to keep them. But, if you plan to expand your collection, you need to have a larger storage space built, like a custom wine cellar. The basement and the garage are two of the most common areas of the house that are turned into wine rooms. Recently, Custom Wine Cellars Phoenix completed the conversion of a client's garage in Ahwatukee Foothills, Arizona into a beautiful residential cellar. 
Cellar Conversion Project: Renovating a Garage into a Dependable Wine Room
Custom Wine Cellars Phoenix, a trusted wine room contractor in Arizona, was contacted by a client who needed construction services. The client is a surgeon in Ahwatukee Foothills who is a long time wine aficionado. He has a huge collection that is comprised of hundreds of bottles gathered from different countries all over the world. The client owned a wine cabinet where he stored all of his bottles.
The surgeon had a relative who owned a larger wine collection. This relative recently passed away and the client inherited all of his bottles. Because of this sudden increase of wines on hand, the client was faced with the dilemma of finding a space to store all of the bottles. Since he had a 4-car garage that was unused, he decided to turn the space into a wine cellar.
Conceptualizing the Wine Cellar Design 
The team of expert builders from Custom Wine Cellars Phoenix was consulted by the client regarding how to convert the Ahwatukee Foothills garage into a spacious wine room that can accommodate a large number of bottles. The wine cellar designers created a 3D design that reflected the client's vision of his storage room. After the client had approved the drawings, the construction commenced.
The original goal of the project was to construct a cellar that could house around 1,500 wine bottles. But to provide the client with flexibility and allow space for a continuously growing collection, the team found a way to create greater storage capacity. The back half of the garage was enclosed so that a 17-foot wide by 10-foot deep wine cellar could be built. Because of this modification, racks that can accommodate up to 2,138 bottles could be created.

Custom-Built Wine Racking System
The client had the wine racks custom-designed, in order to meet his storage needs. There were standard-sized wines in his collection, as well as magnum-sized bottles. The racking system created was customized to accommodate bottles of varying sizes.
All racks were built from Mahogany, which is one of the most popular wood species used by wine cellar builders. A cherry stain and a satin finish were applied to the racks to enhance the wood's aesthetics. Mahogany is a very durable kind of material that can withstand humid conditions, like that inside a wine storage room.
The Back Wall of the Wine Cellar
Right across the cellar's entryway was the back wall where a granite table top with an elegant lattice arch was built. The tabletop was bordered by label forward horizontal display racks. This style of wine display allows the bottle labels to be seen immediately. The owner can put his favorite vintages on these racks so that he can show them off to visitors and friends. The builders included a set of cabinets and drawers below the tabletop where the client can keep wine tasting rudiments, like napkins, glasses, bottle openers, etc.
Diamond bins, which are meant for bulk storage, were included on the left and right of the bottom half of the racking system. In the middle part of the back wall, the team also built a high reveal display row. The rest of the racks on this wall were single bottle slots.
The Left and Right Cellar Walls
Both the left and the right walls of the wine cellar were installed with individual bottle storage slots, a high reveal display row, and diamond bins. The contractors also included wooden cases on both walls, and they were mounted on roll-out shelves for easy access. These wooden cases were made for magnum-sized bottles.
On the left wall, a space was kept open for the installation of a self-contained refrigeration system.
Additional Racking Systems at the Entry Area of the Cellar
At the entry area of the wine room, quarter-round display racks were mounted. Immediately after these racking systems, diamond bins were installed, and above them were single bottle storage slots and a high reveal display row.
A freestanding tasting table with a granite tabletop is situated at the center of the wine cellar. The front area of the table included individual bottle storage racks, while its back part had label forward displays.
Installation of an Energy Efficient Wine Cellar Lighting System
An LED lighting system was installed in the garage-turned-cellar. These types of lights were quite costly to purchase, but the client would save more money in the long run. This is because the lighting utilizes minimal energy to function. Also, they do not emit ultraviolet rays, and they produce minimal heat. UV light and heat are two factors that can damage wines.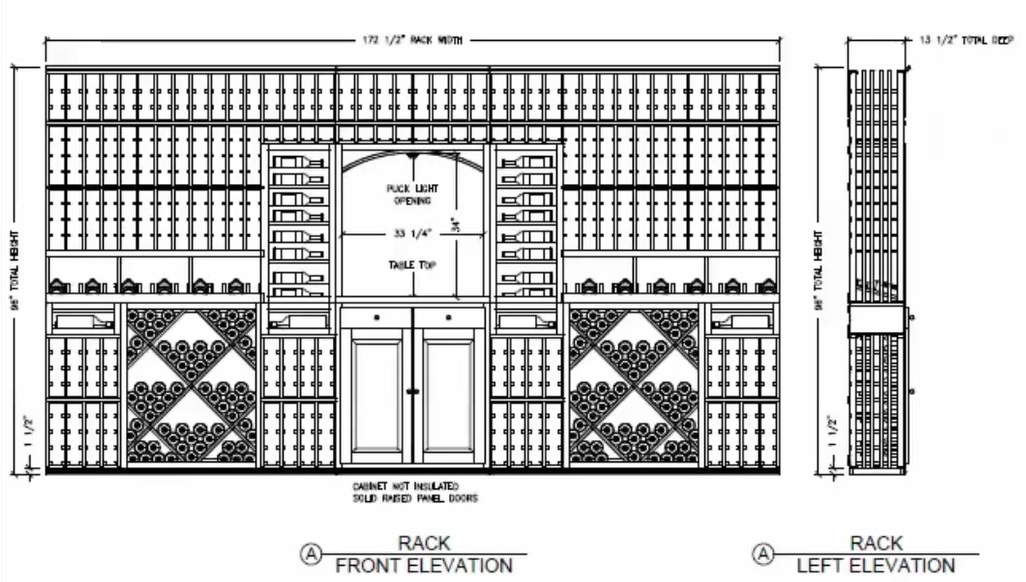 Mounting of a Self-Contained Wine Cellar Refrigeration Unit
An HVAC professional installed a CellarPro VSX refrigeration system in this wine cellar. This equipment is an exterior vent, a self-contained cooling unit. It is known for its robust performance and quiet operation. The HVAC system also has other awesome features, such as an electronic thermostat, adjustable humidity control, and a digital LED display.
Planning to convert an extra room in your house into a wine cellar? Consult a wine storage specialist today! Click here!